All our stuffed animals are delivered in beautiful cotton gift packaging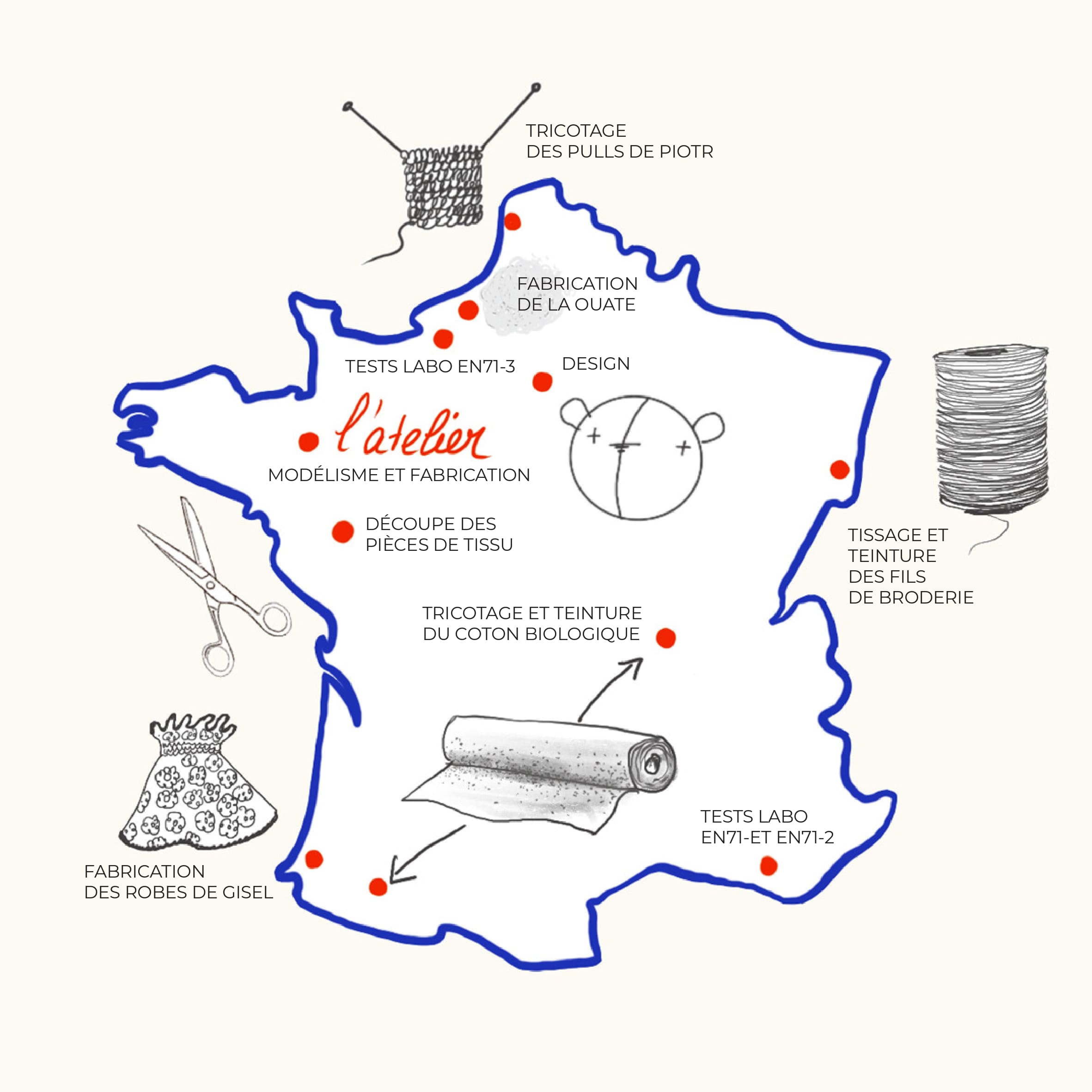 French chic stuffed animals
Behind the scenes of our stuffed animal production
Take a behind-the-scenes look at how ADADA stuffed animals are made: From design and prototyping to production in our Breton workshop
100% ORGANIC COTTON STUFFED ANIMALS, HANDMADE IN FRANCE
Discover our top-of-the-range teddies and stuffed animals handmade from start to finish in a workshop in Brittany using organic cotton, certified OEKO-TEX 100, that has been knitted and dyed in France. These beautifully endearing stuffed animals are all designed by the interior designer Véronique Lacaze. An Adada teddy leaves you safe in the knowledge that you are gifting an ethically responsible product that respects all safety standards for both babies and children.
LOCAL KNOW-HOW, BETWEEN LUXURY AND CRAFTSMANSHIP
All our stuffed animals are made in our workshop in. Brittany by passionate seamstresses with unique know-how. Each seamstress masters every stage of the manufacturing process. They give it the special care that makes it unique and gives it a soul. Each of the fabrics used is entirely dyed and knitted in France from organic cotton, making them the only stuffed animals 100% Made in France!

TEDDIES WITH A TALE TO TELL
Adada's stuffed animals have a story that makes them terribly endearing and gives them a unique and fun character trait. For example, there's Jermaine, the teddy bear who growls in fifteen different languages and dreams of traveling, or Hector aka "Totor", the Paris rat who protects his friends like no one else! Our stuffed animals all have familiar attitudes and facial expressions, making them comforting characters for children and adults. Adventurous companions you won't want to part with.